Supporting Scotland's 15m Strong Tourism Industry

A bespoke, fully compliant training portal for VisitScotland, the official consumer website of Scotland's national tourist board.
accessible-training.visitscotland.org
The Challenge
---
Disabled and elderly visitors with access needs represent a significant proportion of the Scottish tourism marketplace. VisitScotland had been working with the tourism industry on the training and development of accessible tourism within the tourism/hospitality sector. However, classroom training alone could not reach the required numbers and, following evaluation, it was decided that this training will be rolled out across Scotland so the whole country can benefit from this emerging market; small, medium and large business will have access to this valuable training programme.
Redesign
A user-friendly, engaging online training portal that is housed on VisitScotland's industry website (www.visitscotland.com) and reflects Accessible Tourism Scotland initiative
Robust Infrastructure
Be engaging and fun to complete using interactive and lively graphics; vox-pops, etc.
Personalisation
Address the following industry sectors: Accommodation; Visitor Attractions/Cultural Venues; Restaurants/Catering; Pubs/Clubs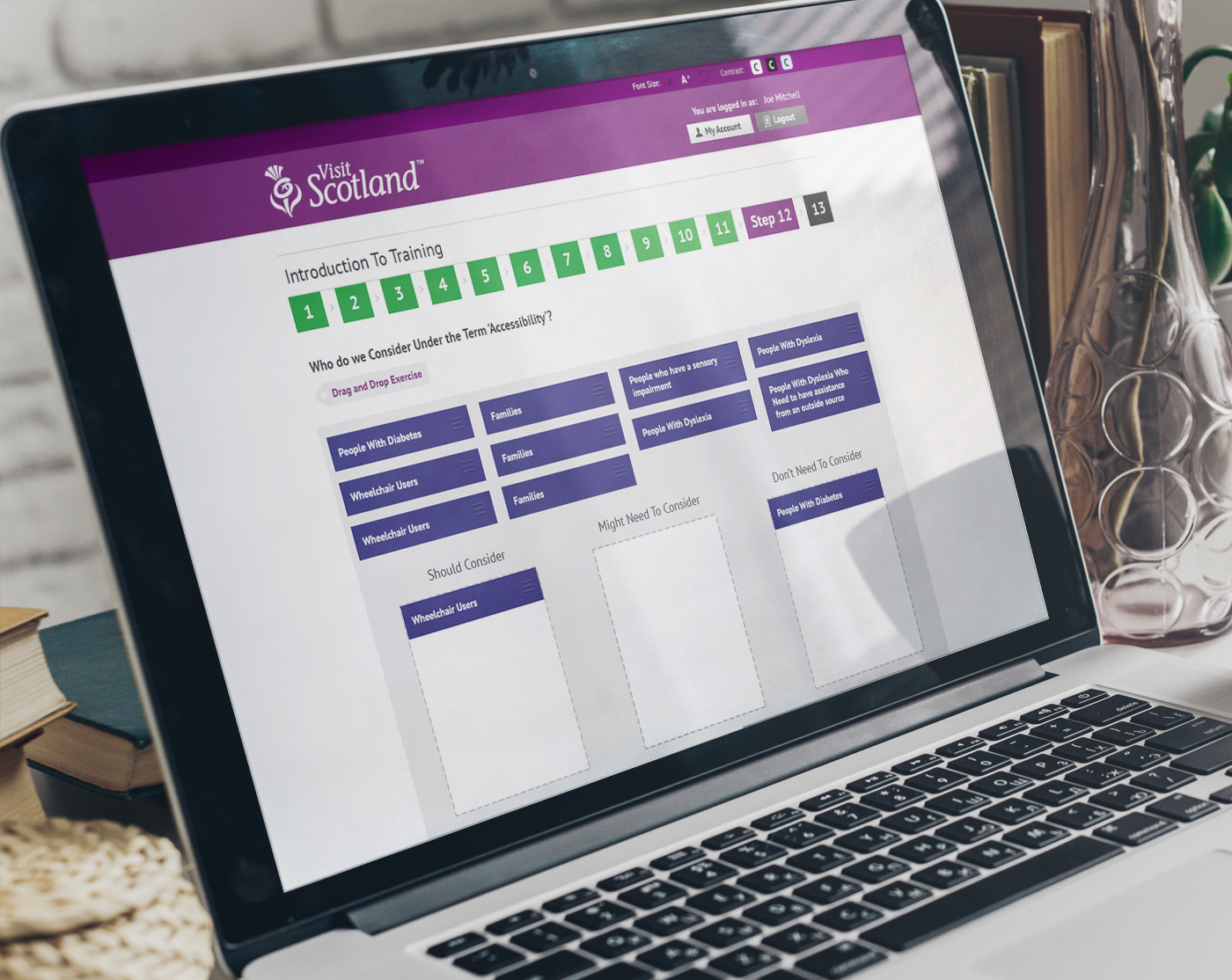 How PureNet Helped
The Project
---
PureNet delivered a solution in partnership with its client DisabledGo which allow participants to complete training modules at their own pace, dip in and out and pick up at last completed point. It provided ongoing assessment and results to allow progression and certification on completion.
The system:
Has a powerful reporting mechanism to allow structured and detailed analysis of activity and results
Reflects the needs of all sectors with accessibility requirements, e.g. disabled, older, families with children etc.
Was built along WAI compliant access provision
Is Fully content managed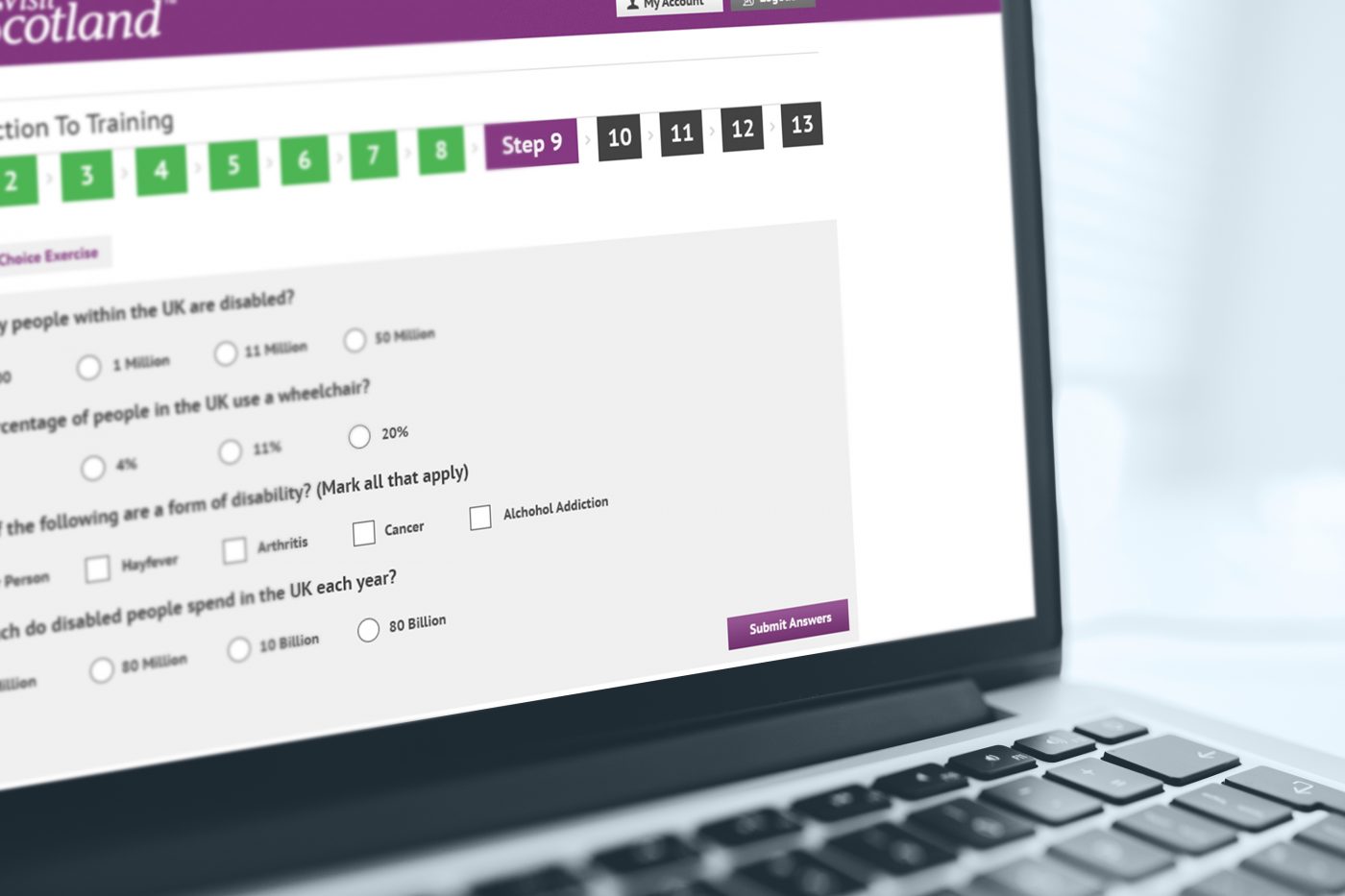 Unlocking the Potential
The Results
---
VisitScotland's new solution has delivered fantastic results with the system being commissioned long past its initial conceived term.
In 2013, between January and November the value of Accessible Tourism spend was £370 million. This is an increase of £45 million in the same period in 2010. (GBTS Survey)
Chris McCoy, VisitScotland Accessible Tourism Scotland project manager, believes the biggest barriers facing those with access needs, such as poor customer service and a lack of information, are addressed in the new e-learning programme.
Fergus Ewing, minister for Tourism, says "Everyone should have the chance to enjoy all that Scotland has to offer. This new online training programme will ensure we are fit for purpose and have services available that can accommodate all visitors to our country. Improving accessibility has real potential to help achieve tourism industry growth ambitions and boost the wider economy, as well as enhancing social equalities."
Supporting #Scotspirit
The Statistics
---
16%
Increased Referrals
In its latest report, VisitScotland noted a 16% increase in industry referrals.
12%
Accessible Tourism spend
Visit Scotland has seen an increase in Accessible Tourism spend of £45m.
45k
Online Training Programme
The Portal is part of a new £45,000 Visit Scotland online training programme.
90
Minutes
Average time it takes to complete the course that has been widely adoped.
Benefit from a Bespoke Business Portal