award-winning ecommerce solutions since 2006
---
PureNet has been delivering award-winning ecommerce solutions for both B2C and B2B clients for over a decade. We understand what it takes to deliver a solution that is innovative, functional and most importantly focused on conversion.
To respond to our clients' requests and reflect our specialism in Magento projects, we established Magium Commerce. Part of the PureNet group, Magium draws on a wealth of expertise in delivering successful ecommerce websites for 12 years.
---
Innovative Web Design
Great ecommerce starts with great design. We understand how customers use ecommerce sites, and use this knowledge to develop engaging user journeys for your website visitors.
---
Powerful Magento Platform
PureNet is an expert Magento Agency, our extensive experience in the platform makes us uniquely qualified to have delivered solutions for some of the UK's leading retailers.
---
Fully Integrated
Our ecommerce solutions often have a lot of complex integrations running behind the scenes. Our job? To ensure integrations run so seamlessly you wouldn't even know they're there.
Responsive All-In-One Ecommerce
---
Magento delivers feature rich ecommerce across all devices, allowing you to offer a seamless, engaging experience for your customers at all times.
International
---
With Magento Ecommerce you have the freedom to grow internationally, safe in the knowledge your platform will support you every step of the way.
Easy to Manage
---
Easily update, manage and maintain your ecommerce website and promotional activity with Magento's easy-to-use Content Management System.
A World of Extensions
---
Magento's Marketplace enables you to expand your Magento offering even further with a whole host of extensions across marketing, customer service and security.
powerful, feature-rich & trusted
Magento Ecommerce
---
Magento is used across the world by some of the largest, most innovative retailers and brands and is known for its powerful features and functionality. Our vast experience with the platform and certified Developers have enabled us to deliver many Magento solutions across Community and Enterprise.
Our aim is to deliver seamless solutions that offer highly engaging customer experiences and ultimately increase your online sales anywhere, anytime, and not just for today. The ecommerce solutions we deliver are built to stand the test of time, ensuring you are innovating now and in years to come.
Magium Commerce will help you start your project on the right foot and deliver your new Magento website as well as any integrations you may need to meet your business goals.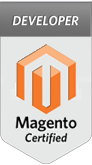 "We wanted to achieve something different with the design of the Saddleback sites that reflects our unique proposition in the marketplace. From initial meetings, to development of ideas for the look and feel of the new site through to launch, the team at PureNet were, and continue to be supportive, creative, professional and forthcoming with suggestions of how we can develop our site further."
John Wager, IT Manager, Saddleback
"I have lost count of the number of customers who have told me how intuitive and attractive they find the new site, directing them to where they want to go with the minimum of hassle. Christmas sales are well up, and all down to the new website without a doubt!"
Angela Clark, Director, Ride-Away
"PureNet has done a fantastic job with the Buy Sheds Direct portfolio of sites in understanding our original brief and keeping to our timescales. PureNet has helped us understand how to drive traffic to our site, but more importantly how we turn those visitors into customers. Overall we are really pleased with the way that the sites are working for us and the increased visibility they have given our business."
Managing Director, Buy Sheds Direct
Phase
01
Discovery
At the start of every ecommerce project comes the Discovery phase. This is where we run a number of workshops to understand your exact project requirements, business goals and the strengths and weaknesses of your existing solution. This allows us to create a functional specification, underpinning the entire project.
Phase
02
Design & UX
Our design phase is led by insight. We start by understanding how your customers are engaging with your existing website and identifying the elements that work and those that don't work. From there we begin to craft your new solution, using the elements that we know create product desire, build customer relationships and - ultimately - increase conversions.
Phase
03
Development & Integration
Having built over 450 solutions, PureNet's Development Team are expert in harnessing the power of Magento and extending and integrating the platform in-line with your business requirements. Our extensive knowledge of Magento means you can be safe in the knowledge that your solution will be robust, secure and will grow with your business.
Phase
04
Support & Hosting
We pride ourselves on delivering industry-leading support, your solution is monitored 24/7 and our dedicated Support Team is on hand should you need them. Our in-depth understanding of Magento's hosting requirements means your Magento solution is fully secure and will handle those peaks in traffic without slowing down!
Discover award-winning ecommerce with PureNet.