PureNet has been delivering fail-safe integration into ecommerce solutions for over a decade.
---
---
Payment Gateways
PureNet creates ecommerce solutions that work in harmony with leading ecommerce Payment Gateways and payment methods including Sage, Amazon, PayPal, WorldPay and Google Checkout.
---
ERP Systems
We have worked with leading ERP systems such as Microsoft Dynamics, SAP, Sage, EPICOR, Oracle and Infor and a number of other financial and warehouse management systems.
---
CRM Systems
We have integrated into a number of leading CRM solutions including Salesforce and Microsoft Dynamics. Our proven approach to CRM integration synchronises key data 24/7.
---
EPoS & Retail Systems
PureNet has implemented solutions that support key retail Omni-Channel strategies including Click & Collect, Ship from Store, Loyalty programmes and many more.
Seamless integration with 24/7 monitoring
Ecommerce Systems Integration
---
We have implemented countless solutions that integrate with the leading ERP, CRM and EPOS systems, such as SAP, Sage, Salesforce and Cybertill to name but a few. We have a proven approach to analysing client requirements and we have a solid technical method of providing fail-safe integrated architectures that work 24/7.
Integration isn't limited to back-end systems – it also covers payment gateways (e.g. SagePay), shipping & logistics systems (e.g. DPD) and online product listing feeds (e.g. Google PLA, Amazon and eBay). We take a holistic approach to our clients' requirements of your ecommerce solution and the systems it relies on to make it work seamlessly.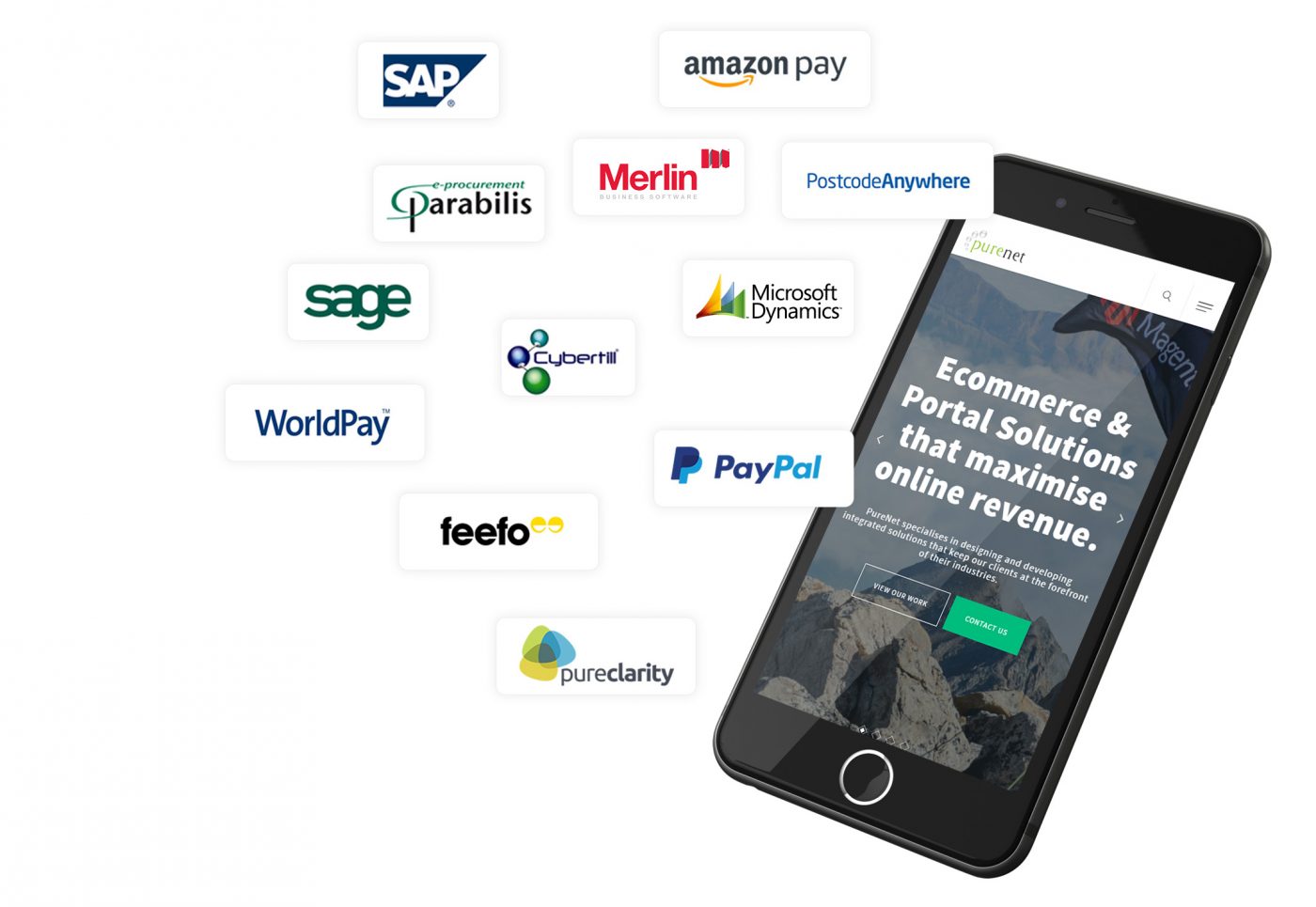 Our Integration Portfolio
A snapshot of some of the integrations we have worked on (if we listed them all this page would be very long!)
---
ERP Systems
Sage
SAP
Merlin
Microsoft Dynamics
EpiCor
Oracle
Infor
CRM Systems
Salesforce
Microsoft Dynamics
Oracle
Podio
Payment Gateways
Sage
PayPal
Google Checkout
WorldPay
HSBC
Amazon Payments
EPos & Till Systems
Cybertill
PCMS
Ticketing
See Tickets
Advanced Ticketing
Shipping & Logistics
Royal Mail
Hermes
DPD, UPS, TNT
FedEx
UKMail
Marketing & Optimisation
PureClarity
Postcode Anywhere
CraftyClicks
Feefo
LiveChat Inc
Mailchimp
Analytics & Reporting
Google Analytics
Tag Manager
Crazy Egg
Let's discuss your requirements.